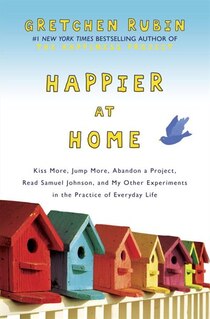 This week I've been reading
Happier at Home
,
Gretchen Rubin's
sequel to her popular tome,
The Happiness Project
. If you've not read either book, seeing those titles, you might dismiss her books as yet another couple of 'feel good' additions to the plethora of self-help material already on the shelves. If this is indeed the case, I urge you to take a second look. There's much more to them than meets the eye. In fact, as I read I've been wishing I were as intentional about my own
examen
-- looking at my own thoughts, words and behaviours -- as she has been learning to be over the course of her study of the cultivation of one's own happiness. And while Ms. Rubin is careful not to tout any particular religion or theology, her work seems to me to carry kernels of faith within it; the practices she explores and undertakes in search of ways to bring richness and joy to her own life and that of her immediate family echo in practical ways the words of the Judeo-Christian scriptures and the Rule of Benedict, to name just a couple of foundational spiritual resources.
Which brings me to the subject of today's post. This morning I was reading the chapter entitled "April: Neighbourhood", in which Ms. Rubin writes about her efforts to "concentrate on the sense of home [she] felt
outside
[her] apartment." She describes broadening her outlook, first by 'being a tourist without leaving home', then by 'practicing
non
-random acts of kindness' -- specific acts for people with whom she had at least a passing acquaintance -- and then by reaching out to support a particular cause in which she believed: as Sr. Teresa of Calcutta would say, "her own Calcutta".
I too, have "my own Calcutta" -- and it's Type 1 Diabetes, the death-by-inches illness that took my husband's life in 2006 -- and more specifically, the work of
the Juvenile Diabetes Research Foundation (JDRF) in Canada.
Today is
World Diabetes Day
-- observed because it is the birthday of
Sir Frederick Banting,
the Canadian doctor and medical scientist who, with Sir Charles Best, worked to discover
insulin
, its role in the body, and how it could be used to prolong the lives of those suffering from certain forms of
diabetes mellitus
.
My husband was diagnosed with Type 1 Diabetes around age 7, and once put on a regimen of insulin injections and dietary monitoring, was able to live a seemingly normal life. Trust me; it's not "normal" the way those of us without this affliction experience it! And the disease continues to take its toll on the body -- often unobserved from the exterior -- over time. I say this regularly and I'll say it again:
insulin is not a cure!
Neither are transplants -- for
someone has to die
before his/her insulin-producing islet cells can be taken from his/her pancreas and donated to someone in need.
And the person who's the beneficiary of that wonderful gift still has a long row to hoe: he or she is on anti-rejection drugs going forward, which have a serious impact on his/her immune system, and he or she may still need additional insulin injections from time to time to combat even the common cold. (I learned this first hand over the past couple of years as I've watched a friend receive his transplant...and enter an entirely
different battle for life and health.)
(An aside: if you haven't already, I urge you to sign the organ donor portion of your driver's license, or whatever your jurisdiction requires, and ensure that your family knows you want to donate whatever organs possible in the event of your untimely demise. Your gifts could save a multitude of lives!)
So...what do I do for "my own Calcutta"? I've signed my organ donor authorization and my children are well aware where I stand on this issue. I've named the JDRF as a beneficiary in my will. I try to participate annually in either an activity to raise funds, and I make at least one monetary donation each year.
In mid-December, you'll find me in the
Edmonton City Centre Mall
, behind a desk at Guest Services, greeting passers-by and offering to gift-wrap their Christmas parcels, with proceeds going to JDRF. This is, I believe, the second year that the Mall has chosen JDRF as its charity of choice for this venture, organized through the Edmonton branch of
the North Central Alberta NWT Region of JDRF
. If you're in the Mall on December 18 between noon and 4 p.m., c'mon by and test my wrapping skills on your purchases. Weather permitting (it's a long drive up Highway 21 from here to Edmonton), I'll see you there! :-)