I don't know about you, but I'm rather glad to see the back end of March this year! In these parts it roared in like a lion, taking over Leap Day with a snowstorm -- and another the next week -- and COVID-19 cancellations the following week -- and then more snow. As I write on this sunny-blue-sky April a.m., it's still in the minus-double-digits Celsius, and more snow is forecast for tomorrow!
Sheesh!
To make it even crazier, yesterday my laptop played an April Fool's prank -- or would have, if it actually had a brain. I dunno; after yesterday, I'm beginning to wonder. Perhaps it
does!
I got up early as usual, turned on the laptop while I heated my coffee, and went to sign in. I couldn't. No matter how I tried, it would take only 2 digits of my 4-digit PIN. I restarted it at least three times -- to no avail.
My son is a techy, but it was far too early to phone him (6:40 a.m.) Hmmmph! So...I called Dell, the maker of my aging machine (bought in 2013). This is my fourth or fifth Dell PC; I love the brand. Anyway, as my warranty had long expired, I was instructed to purchase a "single event" plan so I could talk to a techy and see if it could be resolved online -- a software/driver issue with the keyboard, perhaps.
$135.00 CAD later, I had an appointment with a techy; he called right on time (9 a.m. my time) and we were on the phone for over an hour trying to sort it out. Finally he let me go and continue to work on the machine remotely.
While he was doing that, I distracted myself with some sewing. On Tuesday I'd started the first section of Bonnie Hunter's "Unity" Sew-in-Place Quilt-Along, which I mentioned in
my last post.
Here's my selected colour palette:
Hard to tell, but there's a chunk of off-white neutral
fabric on the far left!
The first section is the centre medallion,
seen here starting to take shape on my design wall.
While the techy worked away, I added some more units:
A 4-patch of 4-patches!
BKH loves to construct in sets of units!
I really like how it's shaping up.
The techy called me back (as promised) and said...sorry...try as he might, he couldn't seem to fix the problem; it looked like it was a hardware problem. He would be refunding my $135.00 -- Dell's policy for this plan because it couldn't be resolved online. We talked about options and, in true Canadian Anglican fashion (😉) I chose the
via media --
the middle way:
Purchase an external hard drive so I can back up my data in the event the aging PC should give out altogether;
Limp along using the on-screen keyboard OR purchase a wireless keyboard;
Prepare to replace the laptop as soon as I am able/ready/willing.
Staples had both the external drive and the keyboard...they should be delivered later today or tomorrow (free delivery too!)
What to do? I needed groceries, and a break, and my LQS owner had my batting ready for pick-up at her door...so off to Stettler I went. Got the batting, got the groceries...and stopped in at a dollar store and a hardware store, where I found potting soil and packets of veggie and flower seeds. We may still have drifted snow a foot deep around here but ##@@!!!** it, I'm going to plant some seeds! (If the shed door isn't frozen and I can get my starter pots out!)
By the time I got home and unloaded everything, it was after 4 p.m. -- and my PC had been asleep for over 3 hours.
I woke it up and signed in with the on-screen keyboard. Then I went to FB Messenger to type a note to my son, and by force of habit, forgot the on-screen board and began to type on the laptop's own keyboard.
Here's the spooky, weird thing: it was working again!
😲
I have no idea why -- but I have a theory. After I put it to sleep and went away for a long while (3 hours at least)...it likely turned off altogether, or was in a state something like that...and the "reboot" it had when I returned to use it might have been sufficient to trigger success based on whatever the techy had done with it. That's the only explanation I can hold in my mind...assuming gremlins aren't living inside my laptop!
No, I didn't cancel my Staples order. I figure it's a good idea to have my own external hard drive and a back up of my data -- up-dated periodically -- and the wireless keyboard may come in handy eventually. Neither were terribly expensive, and with the refund of the repair fee, I'm not out as much money as all that.
I finished off the day with a wee dram, casting on and knitting 15 rows of the first of the pair of socks I've chosen for the April Challenge in Ravelry's "Socks From Stash" group:
This morning I shared this cast-on photo with the group on Ravelry, and discovered I'd won a door-prize following the March Challenge! Whoo-hoo! I'm to receive a free pattern ($8 USD value) from one of the group's designers! 😊 This made my day -- and made up for the grief from yesterday.
Tomorrow marks the beginning of GE Designs'
"Strip-Along 2020"
...and I'm in. Clearly I have a need for the repetitive, soothing work of cutting and piecing fabric, and knitting simple lace. My brain relaxes and my hands are happy.
As Melanie Falick writes in her new book,
Making a Life: Making by Hand...,
I have been looking at my hands...and discovering the life I am meant to live --
need
to live -- right now.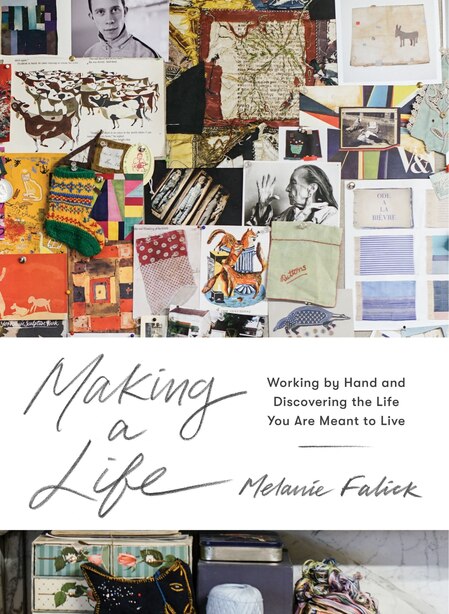 ***Editted: "Canon" was frogged last night
(April 2) when I found myself floundering to follow the lace pattern (lots of yarn overs and ktbl -- Knit Through Back Loop -- in quick succession). Clearly my concentration isn't spot on these days. I'm using the same yarn, but have switched to a simpler pattern I've made before that will fill the requirements of the Challenge:
Hermione's Everyday Socks
, designed by Erica Lueder -- another free pattern on Ravelry.
Nina Marie is talking about the comfort of routines in a time like this. I'm happy to oblige. How about you?
Do take care, Gentle Readers.
Find a rhythm and routine in your daily round,
and may the work of your hands be blessed.