I don't know how the FB 'quizzes' and 'name tests' are created, but this is one I decided to try tonight...it used my photos...and presented me with a "Motto for 2018".
The odd thing is, this particular practice -- keeping 'it' simple, not over-thinking, over-analyzing, not getting lost in details, seeing every tree in the forest instead of the forest as a single entity -- this practice has plagued me most of my 65 years.
And most years, right around this time, I return to it. "Always [I] begin again," in the way of
Benedict
.
The challenge? To prioritize and fit it into weeks that seem to grow shorter every year. Tuesdays and Thursdays are set aside for work in The Shop, music practice at church and Knit Night.
Sunday I've managed to keep as a 'Sabbath' day most of the time, with church in the morning, followed by a walk, and a quiet afternoon of reading, stitching and/or napping, ending with a visit, every couple of weeks, with an elderly friend.
Yes, there is knitting as stitching as part of those days, as every day...but not for long, concentrated periods of time.
Then there's the periodic online work that I do as a volunteer...which has to be fit in somewhere as it is not yet time to give it up for others to do. In some cases there are no others, so it wouldn't get done. Perhaps it wouldn't be missed; I really have no way of knowing. Clearly I need to give it more thought before the end of this year...if I am to simplify as I mean to.
So...how do I intend to fill the remainder of my week-days in this new year?
For one thing, I want to enable simpler living by finishing old projects, and using up fabric and yarn for things that can be given away to others who need them more than I do. I've begun by designating Wednesdays, as much as possible, as days to focus on this work. I started last week, and have managed to knit up a toque and finish a scarf that's been languishing in my UFO basket(s) since the fall of 2015.
Pattern: Chevron Leaf Shawl - by Patons
Yarn: Patons North America
Country Garden DK (discontinued)
- donated to the church some years ago
Today, I took up
a prayer shawl begun in March 2014
and last touched in September of that year -- with only one 20-row pattern set and the edging to do! It's one of those that starts small, and increases steadily, so when I left it there were almost 300 stitches on the needle, so each row takes more time than the last. Still, it's a lovely, meditative design and not particularly difficult, so I've made progress, confident that it will be finished next Wednesday.
On the quilting front, I've decided to participate in
The Quilt Show's 2018 Block of the Month
-- using not the kit but my stash. The quilt is made with a series of 24 small (6" finished) blocks, as well as three applique sections and a large central motif, which I may or may not do. Three patterns for pieced blocks will be given out each month, and ideally one makes three of each of the blocks, or nine blocks per month. Monday, I made three blocks from the first pattern. My aim is to make the other six blocks this month in similar colours -- as far as my stash allows, knowing full well that in February I will have to hunt down different colours for the next nine. This will make it fun -- and use up that stash as I go!
On the side, I hope to get that treadle machine I bought last year up and running with a simple 'squares' quilt, so I can practice plain, straight sewing with it as I get into the rhythm. Maybe treadling my spinning wheel would help with that...as well as using up some of my roving...
Then there's my artwork -- and three projects under consideration this year: the Annual Lacombe Art Show and Sale (April 20 - 21); a "Scotland collaboration" with my friend and colleague, Mary Wilton, for entry into the Annual Camrose Art Walk in August; and an entry into a SAQA juried show, with an online entry deadline of May 31 (more about that later).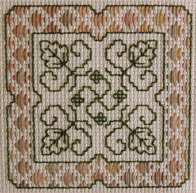 Design: Carol Leather
Finally, this year there's embroidery in the mix, also in an attempt to use materials stashed for far too long -- so there's a hope I will make up some small pieces from kits I've collected, as well as studying various stitches through the year as part of "Beyond TAST" (
Take A Stitch Tuesday
), a project under the auspices of the talented Sharon Boggon of Australia. We begin by playing with the Running Stitch; Sharon recommended doing so by way of 'Pattern Darning' or Kogin, a Japanese embroidery technique. I've dug out some 14- and 18-count Aida cloth, a tapestry needle, a simple pattern (courtesy of stitcher
Carol Leather
), and will begin a sampler in two colours.
"Keep It Simple"? I'm not sure it's going to happen...at least not this year...but I'll put one foot in front of the other, "begin again" each day in earnest, and with God's grace, well...who knows?
And so to bed.
Tomorrow's another day. 😊