I've managed several "finishes" this week...especially on the knitting front,
to wit
:
My tunic top...in purple-blue (periwinkle...to be a bit more romantic about it)...which I plan to wear with white flowing pants, for my son's wedding:
Left side detail
Right side detail
When I washed it, it sloughed off an
enormous
amount of purple lint (!) and may have shrunk a bit (in length) -- though I followed the care directions on the yarn label, the lint took me completely by surprise. Still, I think it will work well with the selected pants, and some heavy gold jewellry -- a necklace and hoop earrings that I love but don't often wear. And there's a hat. Yep; a hat. A
grand
purple summer hat. But that won't be revealed till the wedding. Sorry! ;-)
Then there's the "baby dress" I made in a 1-year size for the soon-to-be-one granddaughter of a cousin of mine. Her name is Beatrice May and she's a dark-haired cutie I've never met. Come to that, I've never met her parents. Her father is the son of my third cousin...whom I haven't seen either since...well...I think he was in high school and I was at McGill U. in Montreal...about 45 years ago... but Third Cousin and his younger sister -- also a Third Cousin -- and I are FB friends...and he posted about sweet Bea May after a visit in January. I was smitten, so knew I had to make her this...with yarn I had in my stash that was just the right colour:
Back neck detail
Front bodice detail
And the hat...a commission for my friend
D.
I confess I had my doubts about this one. Though produced by Rowan Yarns, the ball of Pure Wool Super-wash Worsted I used had several flawed sections and a tendency to split...and the product seemed to me over-sized and floppy. That said,
D
really liked it and it fit her perfectly!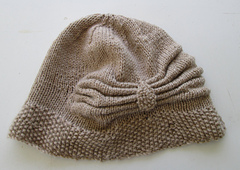 Front/side
Bow detail
D
likes it so well, in fact, that I've been asked to make another -- in black! It will be later this summer, though, for first there is a Wedding Quilt (aka the Japanese Taupe Quilt) to finish...
The good news is that Sections 3 and 4 are both sandwiched -- and the machine quilting on Section 3 is about 75% finished (the rest will be done after this blog post).
Section 3 under the needle
Section 4, sandwiched and waiting
At the same time, I've begun knitting a shawl for myself for the wedding...
Though the self-striping Paton's Lace yarn is called for, I don't like the colours on offer...so I call my piece, "My Vanilla Sundae Shawl". ;-)
And...I'm working on Sock #2 of a pair for my nephew George, who'll be 24 in early July...
The above photo belies my progress, as I've finished one sock and am more than half-way down the leg of the second...And then there's the 'Feather and Fan' baby blanket I'm working on for a relatively new baby girl (3-4 months old now) in the family...no photos yet...so I guess I need to up-date my photos!
But a gal can only do so much...keeping up with the garden, mowing her lawn, making sure her cat doesn't interfere with the swallows raising a family in one of her birdhouses...
And letting the dishes pile up in the kitchen...
While I link in to
Nina Marie's Off the Wall Friday
... Why don't you pour another cuppa, pick up your latest WIP and go for it... And while you're at it, have a great week!