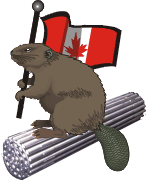 Yup, yup, yup...a true Canadian, that's me... at least, according to a quiz I stumbled onto not once, but
twic
e in the past few days (second time, courtesy of
my friend elle
).
I'm a Beaver
, through and through: "Analytical, self-disciplined, industrial, organized, aesthetic, self-sacrificing" - just ask my friends. (Don't ask my kids; they
expect
me to be this way -- I'm a MOM, after all! ;-) )
And so I've been steadily working in the Sewdio, despite a head-cold which has me longing to lie down and sleep, sleep, sle-e-e-ep...
W
hat's
I
n
P
rogress, you may ask (being as this is
WIP
Wednesday, after all!)?
Well...the Magic Tiles (nine block version) has been assembled and awaits its borders:
I'm thinking about a narrow (ish) pieced border (2" finished) and a wider solid border (4" -- likely black...with a subtle pattern).
And there are two new miniatures on the design wall, awaiting thread painting and/or a bit of hand-stitch:
Top: "Gone South" (WIP)
Bottom: "Statuesque" (WIP)
Before these could be finished, I had to get some more batting and a backing for the Magic Tiles baby quilt. Off I went to
Homespun Seasons
in Stettler this afternoon, and I wasn't disappointed.
BUT I
was
distracted
... by the latest from
Husqvarna
...
Uh-oh. At about $6,000 ( before discounts)...including (I believe) the table...it's almost the price of a decent used car. On the other hand, I might just be in love. However, as I actually
need
a new car within the next 2-3 years, and want to travel to Scotland for my 65th in 2017...this is
not
going to be an Immediate Purchase. Still, it's lovely to know that there is a dealer nearby who carries something I might just be able to use...
***TAKE DEEP BREATH HERE***
Okay!
Back to reality
via
The Needle and Thread Network...WIP Wednesday
, and the reminder that Christmas approaches, the Gallery calls, and
The Beat Goes On!