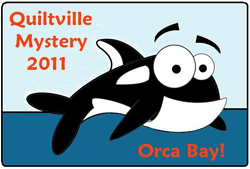 Isn't he cute?!
I've picked my colours, washed those pieces that -- till now -- had not been washed -- and it's a good thing I did! One of the reds ran a bit, so a couple of B&W scraps are now
very pale pink
B&W. Ah well -- if the pieces are small, it won't make any difference.
Fabric collection for the OBMQ
I've now printed off the Intro and Part 1 and put them in a binder especially for the "OBQM", so it's time to get started!
I'm making progress on the Christmas stocking too -- all the embellishing on the front has been done, and to my delight I have enough of the fabric I wanted to use for the back. I've now chosen the lining fabric too, and will spend at least part of today getting this piece together.
Stocking front & hand-dyed perle cotton
Most of the embellishment is hand-stitching with my own hand-dyed perle cotton. There is some ribbon and ric-rac trim, and a few good-sized buttons, firmly attached. : -) The focus fabrics are some
Laurel Burch
pieces I collected over the years -- I simply
love
her cats!
Button embellishment